Unlocking Academic | New Virtual IGCSE Summer Camp Batch |virtual academia
In the realm of education, innovation has become a driving force for academic institutions to provide students with unique and enriching learning experiences. One such initiative is Virtual Academia's new IGCSE Summer Camp Batch, designed to unlock academic excellence and offer a transformative educational journey. This blog explores the exciting features and benefits of this groundbreaking program.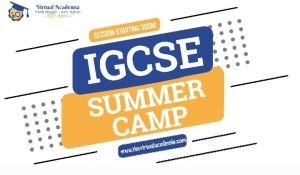 A Bridge to Success
The IGCSE Summer Camp Batch acts as a bridge between the academic years, empowering students to utilize their summer break productively. It offers an immersive learning environment where students can delve deeper into their subjects, strengthen their foundational knowledge, and get a head start on their upcoming academic.
Exam preparation tips
Create a best revision plan.
revision style for all students your notes make more personal.
Make sure you learn everything about course past exam prepration for exam
Reward yourself
Do something physical and mentally
Virtual Learning Reinvented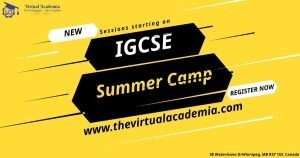 Virtual Academia has revolutionized the virtual learning experience by leveraging cutting- edge technology and innovative teaching methods. Through interactive virtual classrooms, students can engage with experienced teachers and fellow participants, ensuring an immersive and collaborative learning environment despite the physical distance.Unlocking Academic
The IGCSE Summer Camp Batch covers a wide range of subjects, allowing students to explore their interests and expand their knowledge base. From core subjects like Mathematics, English, and Science to specialized areas like Humanities, Languages, and Business Studies, the program offers a comprehensive curriculum that caters to diverse academic pursuits.Unlocking Academic
Personalized Attention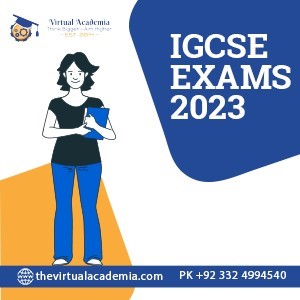 Virtual Academia's commitment to individualized learning shines through in the IGCSE Summer Camp Batch. With smaller class sizes, students receive personalized attention from teachers who tailor their approach to cater to each student's unique strengths and weaknesses. This personalized guidance enhances student understanding, boosts confidence, and fosters academic growth.Unlocking Academic
Cognitive Learning
The summer camp goes beyond theoretical concepts, emphasizing Cognitive Learning. Through virtual experiments, projects, and simulations, students gain a deeper understanding of complex topics, allowing them to apply their knowledge to real-world scenarios. This experiential learning approach cultivates critical thinking, problem-solving skills, and creativity.Unlocking Academic
Exam Preparation and Study Techniques
Preparing for IGCSE examinations can be a daunting task, but Virtual Academia's summer camp equips students with essential exam preparation strategies and effective study techniques. Students learn time management skills, revision methods, and examination tips from experienced teachers who understand the nuances of the IGCSE curriculum, ensuring they are well-prepared to excel in their exams.Unlocking Academic
Holistic Development
Virtual Academia believes in nurturing well-rounded individuals. Alongside academic pursuits, the IGCSE Summer Camp Batch encourages students to participate in extracurricular activities such as virtual clubs, debates, and cultural events. This holistic approach to education fosters personal growth, promotes teamwork, and instills a sense of social responsibility.
Global Networking Opportunities
One of the unique advantages of the IGCSE Summer Camp Batch is its diverse student community. Students from different parts of the world come together, creating a global network that broadens their horizons and exposes them to different cultures and perspectives. This international exposure fosters cross-cultural understanding, global awareness, and lifelong friendships.Unlocking Academic
Conclusion
Virtual Academia's new IGCSE Summer Camp Batch is an exceptional opportunity for students to unlock their full academic potential, gain a head start on their IGCSE studies, and develop crucial skills for future success. Through personalized attention, hands-on
learning experiences, and a holistic approach, this innovative program paves the way for students to thrive academically Unlocking Academic 2023 and personally. Joining the Virtual Academia IGCSE Summer Camp Batch is a steppingstone towards a brighter, more promising educational journey.